WISL WebRate
WISL Webrate is a web based application that provides the capability to enter the characteristics of a shipment and retrieve the best rate along with a list of other applicable rates and access to further details about the rates and contract arrangements.

Contract arrangements with carriers can be complex and freight rate structures are often bewildering for those not directly involved in rate negotiations. A large organization with a variety of shipping needs could have scores of rating arrangements that may apply to a given shipment. The interactive tools of WISL WebRate may be utilized to simplify finding the best rate for a given shipment.
Platforms
Webserver:
Windows Server , Internet Information Services
Redhat Linux, Apache
Workstation: Any device that can run a browser (Chrome, Windows Internet Explorer, Netscape or Firefox) and can access the corporate intranet or internet as required
Includes:
Windows PC
Mac
Thin client
Third Party Software
Rocket Software's UniVerse DBMS – provides for support of imported and generated data base files
Rocket Software's Middleware Web DE – provides for browser based access by workstations to the webserver
JAVA Application Server(JRun)
WISL Software Modules
Freight Analysis Information System
WISL WebRate
WISL WebRate/Freight Analysis Information System Interface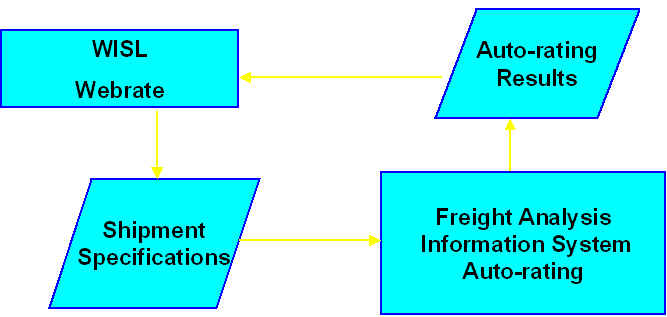 WISL WebRate/FAIS Scenario
Shipment specifications are entered directly through a web based entry screen.

Webrate invokes the FAIS auto-rating mechanism which identifies the best rate and a list of additional rates found

Webrate provides for display of the rates data gathered in the auto-rating process and also provides for display of additional detail

Webrate can be implemented as an intranet facility or made available on the internet
Available Optional Software Modules
Rate

Quote Request
Provides for the specification of the major attributes of a rate quotation and then provides for the rate quote request to be submitted via e-mail to a list of carriers with copies to the rate quote administration authority.